desitka
Match 3 game with numbers
The game


on Kongregate | on Google Play
How to play:
Click on 3 neighbouring blocks to make their sum as multiple of 10.
In Puzzle Mode: Chain near blocks to score a combo.
In Zen Mode: Blocks number are fixed.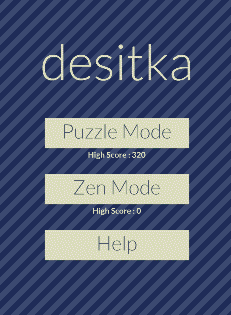 Details
This is my attempt to make a original puzzle game. The game idea stems from old school classic Zoo Keeper and a less known game from Nekogames. The result is something really ... boring :(
This game uses HaxeNME so it builds to Android and Flash within a single codebase. The language looks familiar and NME is very close to Flash API. The project is also actively developed and I think it is very promising. You can get the source code here. It should work on NME 3.5.4.