BASKETBALL
~ for the lonely ~
The game:


click here to play in a pop-up window. (requires Flash Player)
If the game won't load please try this instead.
How to play:
| | |
| --- | --- |
| LEFT/RIGHT arrow keys | Move |
| Hold Z to | Jump |
| Release Z to | Shoot |
| X | Reset the ball |
Stand on indicated ground and shoot targeted basket to rack up the score. Any missed shot breaks the combo.(except in "show time").
By holding 'Jump' button you can charge for the shot. You can also press LEFT/RIGHT to adjust the shooting angle. The moving velocity of the player is inherited to the ball. You can catch thrown balls in the air do tricky shots.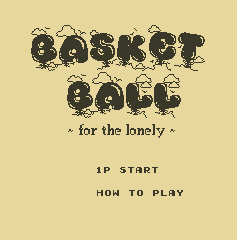 Details
This is an entry to LudumDare 22, the 48 hour game making compo. You can find the code here. This is a post-compo version with some fixes and improvements.
It's worth mention that the game get featured in the dogbomb drunk review ( since I requested it in his post ;) ). It's pretty hilarious.